Easter will be here before you know it!  When I was growing up, one of the highlights of Easter was a new dress.  I'm a girly-girl and am always thrilled to get a new dress!   I'll never forget the first time I had to buy a plus size Easter dress.  It was a total struggle.  The dresses I found were frumpy and were designed for an old lady somewhere.  Thankfully it's a whole lot easier now.  Thanks to Kiyonna.com, you can find amazing Plus Size Easter Dresses and Plus Size Easter Outfits (for those of you who aren't a big fan of dresses).
Plus Size Easter Dresses
For church, the modest Livi Lace Dress for $138.00 is perfect. Designed with delicate lace allover and a feminine flounce hem on the skirt and sleeves, you'll love the look and comfortable silhouette. If you're looking for a fun and bright color this Easter, try the Glittering Affair Wrap Dress. This fully functional wrap dress allows for a custom fit and comes in a beautiful metallic royal blue floral lace for $128.00.
The Ciara Cinch Dress in the NEW Indigo Rain Print is also a great option with a timeless design and fun print. This classic dress is sold for $98.00 and can be worn way beyond Easter Sunday. From work days to date nights, you'll always be covered.
Plus Size Easter Outfits
If you're not one for a dress, but would like to keep it classy, then the best-selling Linden Lace Top for $79.00 is for you. Made with a scalloped neckline and hem, this peplum style will flatter your curves in all the right places. Another great choice would be the Lauren Lace Top, also for $79.00. Featuring romantic lace and statement sleeves, this will be your new favorite blouse.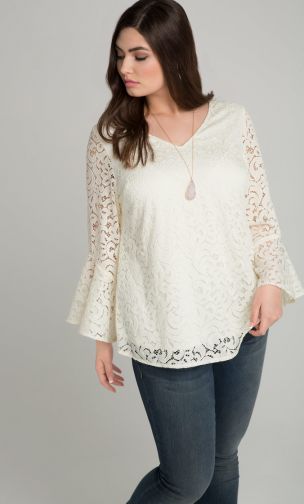 Of course, not all Easter festivities involve dressing up. Stay stylish and comfy in the Hope Cinch Top for $56.00. This flattering faux wrap design, cinches at the waist and comes in a perfect-for-spring plum.
Trust me, there are way more options on their site, so be sure to browse their entire collection of dresses and separates. I don't doubt you'll find exactly what you're looking for this holiday.
Happy Easter!