This is a Sponsored post written by me on behalf of Coastal.com. All opinions are 100% mine.
I hate sacrificing fashion for price…and I hate sacrificing price for fashion. It's quite the dilemma. So when my husband decided he needed glasses, I asked a few friends where the best place was to find affordable Designer Eyeglasses. One friend recommended a brick and mortar store and I headed in for their 2 for 1 deal. I got a quote on the glasses and we spent an 90 minutes getting an eye exam and picking out glasses. When I went to pay, I was shocked to find that the price was more than double what they told me. It was horrible. We'd already spent so much time in the store and my husband really needed the glasses, so we bought them. It was definitely not one of my finer moments!
I swore to myself that I would never let myself pay that much for glasses again. I'd heard lots of great things about Coastal.com and was quite impressed when I went to check out their selection. They have a huge selection of glasses that would have been perfect for my husband. As a matter of fact, I was looking for something like one of these pairs.
These glasses are stylish and the price is right too! They're affordable and you can shop from them in the comfort of your own home. Plus, if you're all about feeling like a celebrity, you may be happy to know that Derek Cardigan glasses were featured in Alicia Key's "Brand New Me" music video and Flo Rida's "I Cry" music video.
Coastal.com has lots of great women's glasses too! I would love a pair like this Derek Cardigan 7021 in Wood.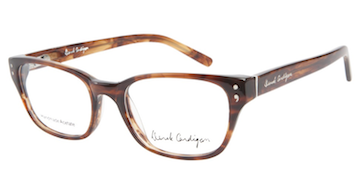 And what I love best of all about Derek Cardigan Eyeglasses is that for every pair you purchase, Coastal.com donates a pair to someon in need. How awesome is that? It's like Toms for eyes! Head on over to Coastal.com and check out all the great glasses you can choose from!